Camping Villages
What are the Camping Villages and how do they work?
There are three villages at Unite and each Company/group will be allocated a village before arrival. The villages allow for Companies/groups of any size to socialise with one another and develop a sense of community for the weekend. At Unite each village is in competition with one another for the weekend so it is key that everyone gets involved!
Where will they be located?
Villages will be marked out on the campsite. They will be designated by colour (red, yellow or blue), so we encourage groups to bring clothing, flags, crafts and extras of that colour to get your village standing out. We want to see which village can decorate their village best!
Throughout the weekend there will be games and competitions in and between all three villages, so make sure you all join in and help your village become the winning one!
Who's in charge?
Each village has two Village Leaders. They are young leaders in BB and their role is to make sure the guests are all having a great time and making the most of the activities on offer. They are the first port of call for anyone who needs some help or fancies a chat. They're also there to have fun too!
Check back nearer the time to find out who the Village Leaders for Unite 2020 will be!
How are village points won?
Each morning there will be a village check-in with the Village Leaders and each person who attends will gain points for their village. Also particular events throughout the weekend will give points to participants and those who win a competition. More information will be shared at the event!
What is the role of Company/group leaders at the event?
If you are a leader bringing young people to the event there is plenty for you to do. Your first main role is to get involved and enjoy the weekend, as there will be leader events on as well as the wider programme. You will camp with your Company/group in your village and although events on during the weekend are run and supervised by the Unite team, there is still a responsibility on each leader to oversee their young people.
Who are the Village Leaders in 2020?
Here are the Village Leaders that have been announced so far… stay tuned for more!
Red village – Adam Franks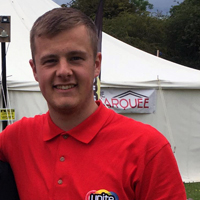 Which BB/GB Company are you a member of? 53rd Manchester
How long have you been a member of BB/GB for? 16 years
What is your favourite memory of BB/GB? Being on Horse Guards Parade for William and Kate's wedding in 2011.
What are you most looking forward to about Unite 2020? Seeing everyone I've not seen since last year and having a good catch up.
Do you have any nicknames, and why? Franky, Franks, Frank Adams – I haven't got a reason for why I've got these nicknames, I guess they've just stuck over time.
Which Olympic sport would you most want to compete in? 100 metres
Which country would you most like to visit, and why? I haven't got one country in particular, I want to explore the world and over time travel to different countries and cities.
What is your favourite food? Spaghetti carbonara

Latest News:
11th October 2021
We're excited to confirm that our 2022 event is planned to take place in a face-to-face setting and will be held on the Platinum Jubilee Weekend – 2nd to 5th June – at Felden Lodge! Stay tuned for more details, including prices and how to book.
14th June 2021
Unite 2021 took place from 28th to 30th May, with a programme of activities being streamed live from Felden Lodge. It was fantastic to see groups from across the country getting involved, with young people taking part via leader-led face-to-face or virtual sessions, or in home settings supported by parents/carers. The speaker for the weekend […]
24th March 2021
With Unite 2021 just around the corner, we're offering leaders the opportunity to get a first look at the programme and how your group can get involved. Join us on Wednesday 31st March at 6:30pm where the Unite Planning Team will be explaining how the event will run, along with key programme activities which will […]