Final planning underway for Unite
With not long to go until the very first Unite at Felden Lodge, Mark Greenwood, the Band and the Unite team have been meeting to finalise plans!
We have some exciting things in store for you to get involved in! Less than 4 weeks to go… Are you ready to unite?!
Follow us on Facebook and Twitter and be sure to mention our hashtag #unitebb when talking about the event on social media!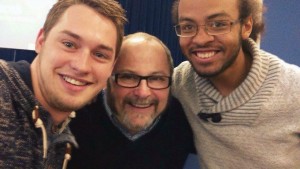 Latest News:
14th January 2022
Group booking for Unite 2022 is now open! To book for your group to attend Unite 2022 please register and pay via the online booking form. Unite 2022 will take place from Thursday 2nd to Sunday 5th June 2022 (Platinum Jubilee Weekend) and the cost is £88.00 per person. The deadline to book is 31st March 2022. A deposit […]
20th December 2021
We are excited to announce that the Volunteer Application Form for Unite 2022 is now open! Check out more details and complete the online form here. The closing date for applications is 28th February 2022.
11th October 2021
We're excited to confirm that our 2022 event is planned to take place in a face-to-face setting and will be held on the Platinum Jubilee Weekend – 2nd to 5th June – at Felden Lodge! Stay tuned for more details, including prices and how to book.