Introducing Jim Sutton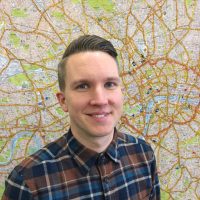 We're excited to announce that Jim Sutton, who is one of the pastors of Balham Baptist Church in south west London, will be our speaker in the main worship sessions at Unite 2018!
Jim tells us: "I love all sorts of music, although my playing's more about enthusiasm than talent! You can also find me either pounding the local streets in my trainers, or splashing away in the swimming pool. I'm married to Sarah who's absolutely fantastic, and I've even nearly forgiven her for being Australian. I'm looking forward to hanging out with you guys, and praying the weekend will bring good news and new friendships to us all!"
Jim will be speaking on "Faith, Hope and Love", which is our theme for the weekend from 1 Corinthians 13:13. We're really looking forward to hearing what he has to say to us in just over 100 days time!
Find out more about how to book for Unite 2018 on the bookings page.
Latest News:
11th October 2021
We're excited to confirm that our 2022 event is planned to take place in a face-to-face setting and will be held on the Platinum Jubilee Weekend – 2nd to 5th June – at Felden Lodge! Stay tuned for more details, including prices and how to book.
14th June 2021
Unite 2021 took place from 28th to 30th May, with a programme of activities being streamed live from Felden Lodge. It was fantastic to see groups from across the country getting involved, with young people taking part via leader-led face-to-face or virtual sessions, or in home settings supported by parents/carers. The speaker for the weekend […]
24th March 2021
With Unite 2021 just around the corner, we're offering leaders the opportunity to get a first look at the programme and how your group can get involved. Join us on Wednesday 31st March at 6:30pm where the Unite Planning Team will be explaining how the event will run, along with key programme activities which will […]