Unite & Cumbrae Camp at Home
Unite 2020 was originally scheduled to take place from 22nd to 25th May, but sadly had to be cancelled due to the ongoing Coronavirus outbreak.
However, we are really excited to have teamed up with our friends from Cumbrae Camp in Scotland (which would have taken place on the same weekend as Unite) to bring you a free and online joint event which is open to all!
Unite & Cumbrae Camp at Home will take place from 22nd to 25th May and will include activities and challenges which you can get involved with at home, opportunities to worship and explore faith, and workshops for leaders.
What's in store and how can we get involved?
Check out the event programme for full details of the activities and events that will be taking place as part of the weekend.
Join us LIVE on Facebook over the weekend… plus you'll also be able to catch up on YouTube following each session and keep up with all that's going on through Instagram too!
Facebook – facebook.com/unitebb
Instagram – instagram.com/unitecamp
YouTube – youtube.com/channel/UCHHRoel21XvtR4N4nawR5uA
Share what you're getting up to by using #UnitedinLockdown across social media!
Useful Resources
Here are some resources to help you get ready for the Unite & Cumbrae Camp at Home weekend:
Guidance to Leaders
Check out our Guidance to Leaders which contains tips on supporting your young people in engaging with the event.
A note for young people
Just remember before getting involved at home make sure you check your surroundings and make sure it is safe for you to join in. We recommend you check with your parent/carer and remind you that we cannot be held responsible for any injury to yourself or others, any breakages or damage to possessions – stay safe guys and have fun!
Leaders Workshops
As part of the weekend we will be holding a series of workshops aimed at leaders. Find out more here.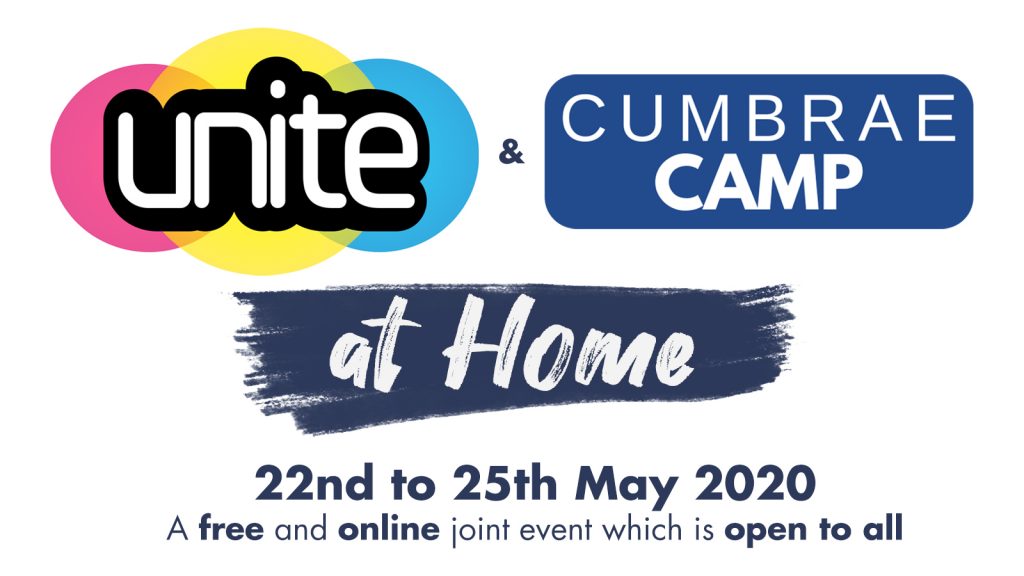 Latest News:
14th January 2022
Group booking for Unite 2022 is now open! To book for your group to attend Unite 2022 please register and pay via the online booking form. Unite 2022 will take place from Thursday 2nd to Sunday 5th June 2022 (Platinum Jubilee Weekend) and the cost is £88.00 per person. The deadline to book is 31st March 2022. A deposit […]
20th December 2021
We are excited to announce that the Volunteer Application Form for Unite 2022 is now open! Check out more details and complete the online form here. The closing date for applications is 28th February 2022.
11th October 2021
We're excited to confirm that our 2022 event is planned to take place in a face-to-face setting and will be held on the Platinum Jubilee Weekend – 2nd to 5th June – at Felden Lodge! Stay tuned for more details, including prices and how to book.